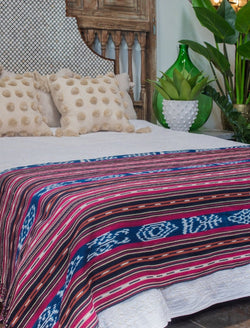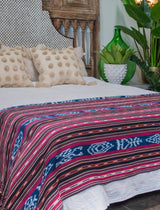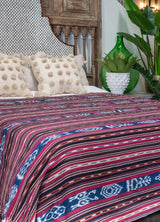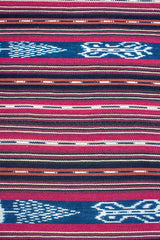 Handwoven Guatemalan Striped Jaspe Blanket
Handwoven on backstrap looms in villages on the shores of Lake Atitlan in Guatemala, these striped blankets make beautiful layering pieces on queen or king beds.  Jaspe strips woven into the stripe design set off this one of a kind blanket.  Jaspe is the Guatemalan word for tie and dyed ikat. 
Shown here on a queen bed you can see how the fringed sides lay nicely to the foundation level of the bed.  On a king bed the fringe will be higher up - layering over the top of your mattress. 
Dyed with natural dyes and handwoven by a women's coop in Guatemala. 
Machine wash on gentle cycle by itself the first few washes to keep any residual natural dyes from coloring other items.  After the first couple of washes you may launder with other items.   
90x74