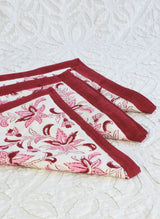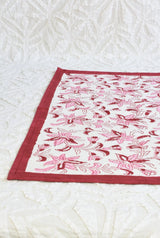 Block Print Napkin - Jaipur
Hand block-printed napkins, make for a table setting worth talking about.  Each of these floral beauties is made with multiple hand carved wooden block prints.  Each time the color changes, that means another block must be carved and used to stamp the pattern.  Even the solid stripe on the edging of these is made with a solid, rectangular print block.  We select these twice a year on our trips to Jaipur, and love to visit the print shops where they are painstakingly made.  
These napkins wash up beautifully - just use the delicate cycle and they last for ages.  
19 x 19