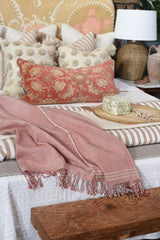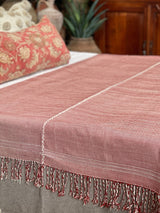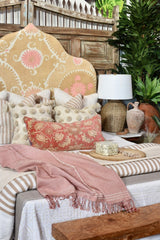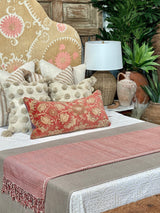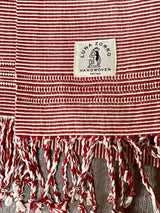 Handwoven Guatemalan Manta End of Bed Throw Blanket Luna Zorro
We were fortunate to be able to travel to Guatemala recently and work with Molly Berry of Luna Zorro in Antigua to collaborate on these lovely striped end of bed blankets based on mantas.  Mantas are textiles worn as shawls or wrapped as skirts in the traditional garb still worn by village women all over Guatemala.  We upsized the length and width on these to create blankets for the end of queen or king beds.  Everything else in these textiles, however, keeps to the age old traditions of the expert weavers in Guatemala.  
First, thread is hand spun and then dyed with 100% natural achiote seeds to achieve the rich terracotta red in the stripe.  The cloth itself is woven on a backstrap loom in slender panels that are hand stitched in a rick-rack pattern to join two panels into a blanket that can be used folded or full at the end of a bed.  
Available in Queen or King lengths.  
Wash on handwash or gentle cycle and hand to dry.  
Queen - 69" x 40"
King - 86" x 40"