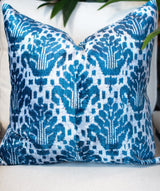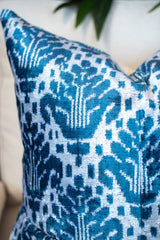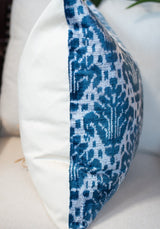 Ottoman Design Blue Silk Velvet Ikat Pillow
These stunning pillows are crafted entirely by hand in Uzbekistan in a complex process that creates intricate patterns by painstakingly tying and dying the warp threads prior to weaving. 
To create the soft silk pile of the velvet cloth, two warps are used, one for the ground, and one for the velvet, which is much longer.  This second warp is looped over a raised wire on the loom, and after a few inches of velvet are woven, a razor is used to uniformly cut the short pile, creating the sumptuous, butter soft fabric, before weaving starts again.  Because of the incredibly labor intense process, only a few yards of cloth can be woven in a day. 
Of course this is all after the long process of growing silk cocoons, treating the threads to ready them for weaving - and of course the tying and dying of up to 20 meters of thread to ready the loom for weaving.  
We buy ikat yardage in Turkey and have our expert workshop in Istanbul sew it into sumptuous pillows.  These soft, sophisticated pillows are gorgeous on beds or sofas; they are the kind of pillow you long to lay against as the silk pile has such a lovely feel.  
24" square - Down inserts are sold separately