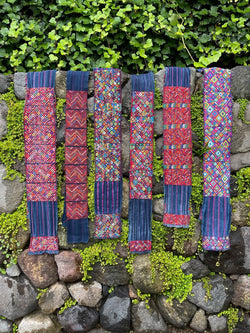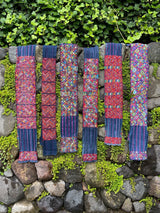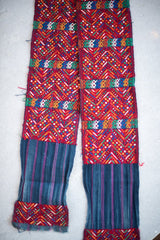 Long Faja Hand Embroidered Nahuala Guatemalan Belt
This vintage, painstakingly embroidered belt from Nahuala, Guatemala is made of handloomed, naturally dyed indigo cotton, with vivid geometric designs stitched onto it.  These fajas, as they are known, would have been worn over a traditional wrap skirt called a corte with a huipil top tucked into the long belt. 
We hand carried these back from our recent Guatemala trip where we sourced textiles from all around Lake Atitlan and the markets of Chichicastenango.  Use these gorgeous textiles as runners on a dining table or console, or drape over a door or railing where you can see the intricate embroidery close up!   
Long belt has small amount of embroidery at the very ends - and long panels of embroidery on each side - the rest of the textile is a subtly striped indigo color. 
110" long x 6" wide 
We have others in stock at TDL - please let us know if you would like to see more!  We can send photos! 
This listing is the exact, solo piece you see in the individual photo.  It is second to right in the group photo.